"Don't let someone else invalidate or minimize your feelings," and remember that its okay not to be okay. This quote, just like any other – packed with lots of wisdom in such a few words, making it easy to grasp as well as remember. Quotes are such incredible tokens in our life, and that is why most of us are great fans of quotes.
However, very few quotes have been integrated as the central theme in films. "It's okay to not be okay" is one among the few other quotes that have been chiefly fused into movies. And so, the main question today is; how is this quote illustrated in the Korean Tv series "It's Okay to Not be Okay?" And more importantly, what are some of the bests it's okay not to be okay quotes?
In this review article, we will highlight several famous lines that complement this quote in this show. Furthermore, we will try to uncover what each famous line means in relation to real life.
So, Let's get started!
12 best its okay not to be okay quotes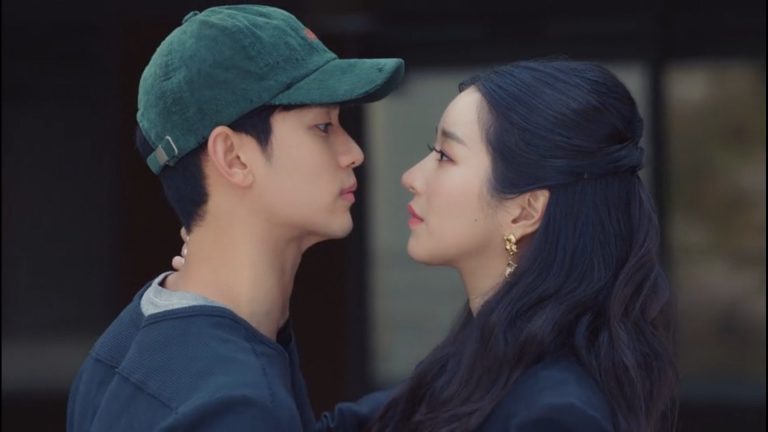 First of all, it is important to appreciate how fantastic, moving and relatable this show is. It is full of warm and beautiful scenes, startling fashionable outfits, and the gorgeous Seo Ye-Ji among the lead characters.
While watching this Korean drama, I came across many memorable and relatable quotes that got me captivated throughout each episode. And so, I chose to write them down, compile the best quotes and share them with you.
And so, here are some of my best memorable and relatable quotes from this show:
"The first step is always the hardest. But once you take the first step, things will get easier from then on," – Ko Moon-young -(Motivational It's Okay to Not Be Okay quotes)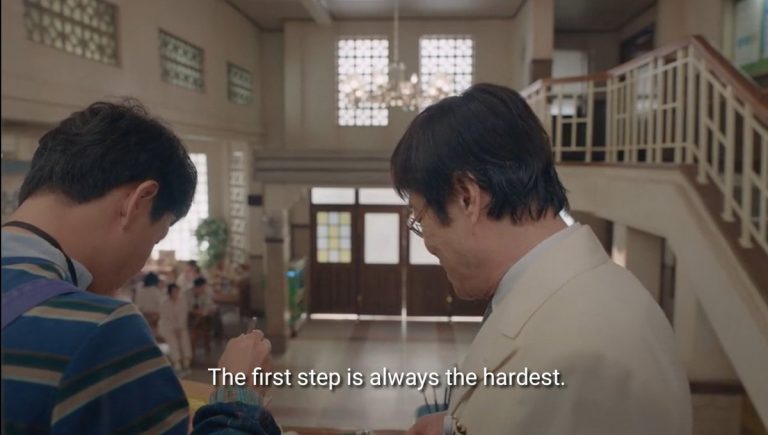 In real life, every person has experienced this at least once in his/her life. Take, for example, joining a new school, starting a new business, moving out or a new town. All these are reasonably hard to initiate tasks, but you are well off on what to do next once you take that first step. 
"Love is all about patience." – Ko Moon-young – (My best of all It's okay to not be okay quotes.)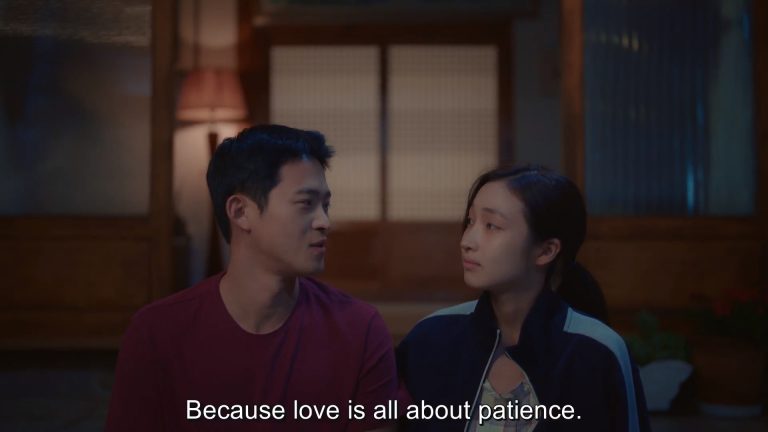 This is my favorite it's ok not to be okay quote and, more importantly, from my favorite cast Ko Moon-young.
There is a saying that goes, "With patience, you understand the virtue of true love," which is true. We all know that falling in love is quite an easy task; however, staying in love is something different, something special. And to achieve this, you will need to have a true understanding which will require patience; thus, love is all about patience.
"People are all hypocrites. We all live with a lot of hatred, but we act like that's not the case." – Jo Jae-soo.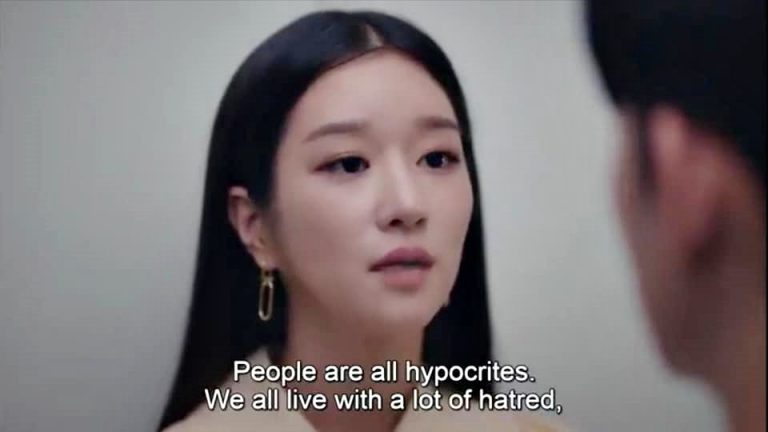 How accurate is this statement based on your personal experiences? Well, for it is very accurate. Hate is part of our nature, and regardless of how much we dislike it, it still exists within the fabric of our buildup. Some of us are good at managing it while others are not.
"Hurtful, painful memories. Only those with such memories buried in their hearts can become stronger, more passionate, and emotionally flexible. And only those can attain happiness." – Moon Gang-tae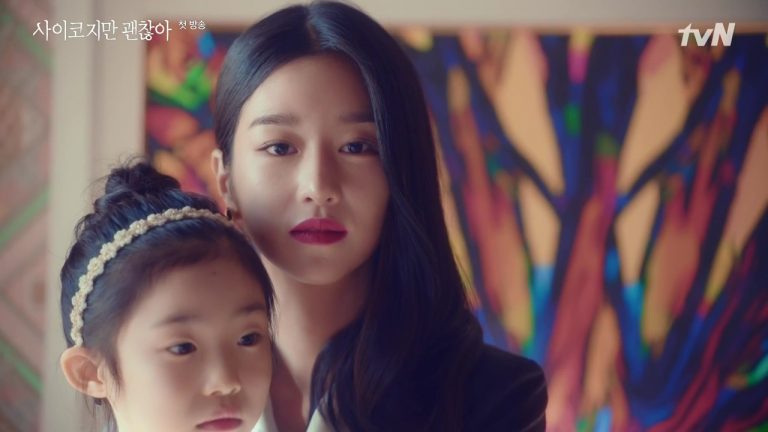 "In all my fairy tales, the witch is always the one that's pretty. Who told you all princesses are kind and pretty? If you really want to be that pretty, I want you to say this, "Mom, I'm going to be a pretty witch." – Ko Moon Young
This quote shows common perceptions deeply rooted in our thinking that a princess should always be pretty. Therefore, this quote shows how accepting the way you are and loving yourself is crucial. Remember, it is okay to be not okay" you don't need to look cute to be loved, appreciated, and even treated like a princess.
"A fairy tale isn't a hallucinogen that gives us hopes and dreams. It's a stimulant that makes us face reality." – Moon Gang-tae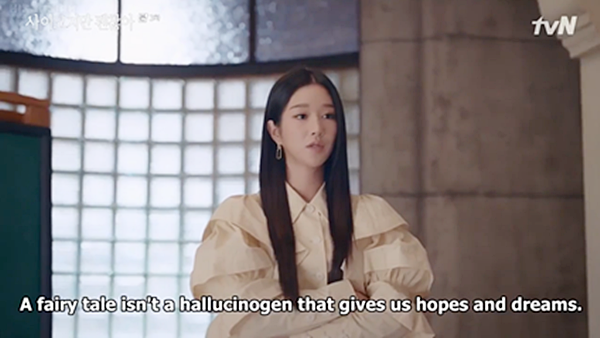 "Your body is honest. When you're in physical pain, you cry. But the heart is a liar. It stays quiet even when it's hurting. Then, when you're asleep, you finally weep and whimper like a dog." – Moon Gang-tae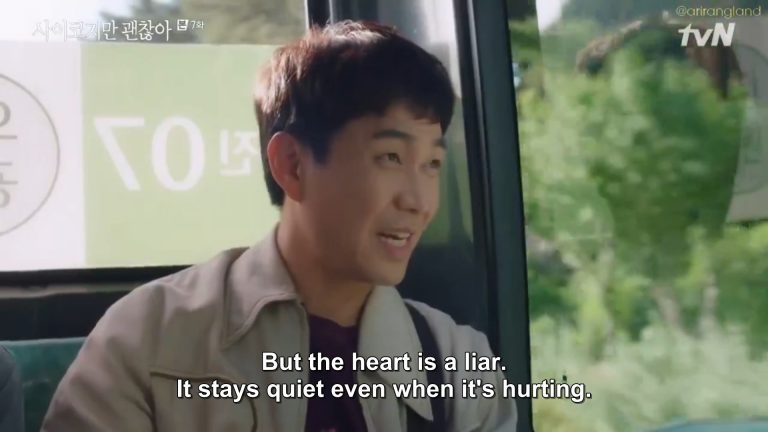 We are always taught not to show our vulnerabilities, which mean even if we get hurt so badly emotionally, we can still manage to conceal our emotions. However, when we experienced slight physical pain, we immediately show it.
"The one who neglects and turns a blind eye to the abuse is worse than the abuser" Ko Moon-young.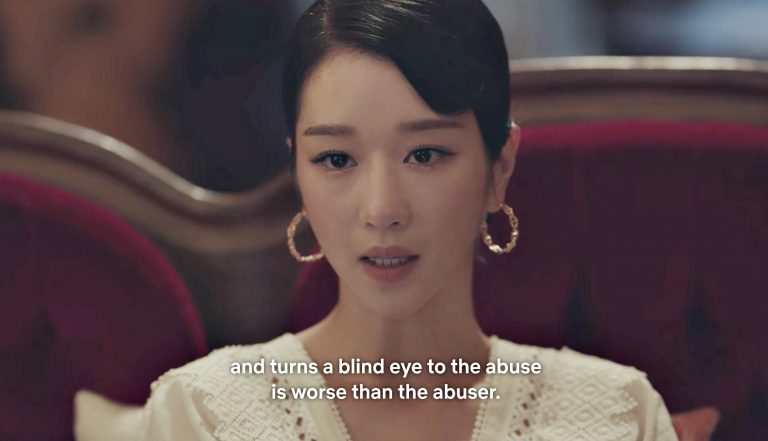 Is this statement true, and if so, why? First, the statement is true that turning a blind eye to abuse is even worse than the abuser. But why, though? Let's use an example here, shall we!
When your friends and family celebrate your success, it motivates you to do more. Therefore, turning a blind eye to the abuser gives him another chance to do it again, which is like entertaining him/her to continue. And so, by the end of it all, the damage done will be so extensive, and you could have stopped it sooner. 
"Only those who have suffered truly understand suffering." – Ko Moon-young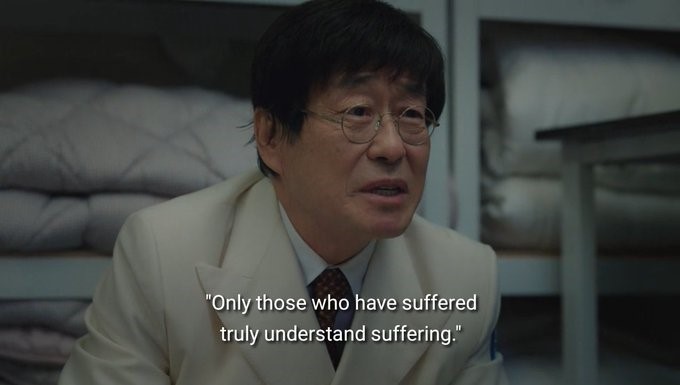 Well, they say, in life, experience is the best teacher, and in this Korean drama, Ko Moon-young confirms that. It's okay to suffer because, through it, you tend to learn and understand things better. Hard times bring out the better us, and therefore you should cherish it (hard times) as your teacher, not enemy, even though you don't like it. Furthermore, it is essential to note that the easy times make us soft and vulnerable, but hard times make us strong and prepared.
"Obsession is noble and beautiful" – Ko Moon-young. – (inspirational it's okay to not be okay quote)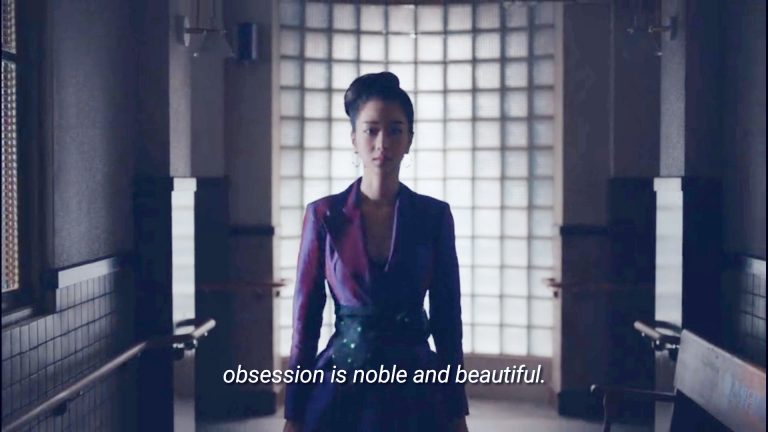 Obsession can be key to success, but of course, don't be overly obsessive with something that you get blinded by it. In it's okay to not be okay, Ko Moon-young says that obsession is noble and beautiful; why that? Well, first of all, it is a powerful and potentially positive mental state because it gets you to constantly think about new opportunities, gives you courage, and even beats talent.
And that's why she called it a noble and beautiful thing.
"Everyone is good and bad. We all live with both traits," Ko Moon-young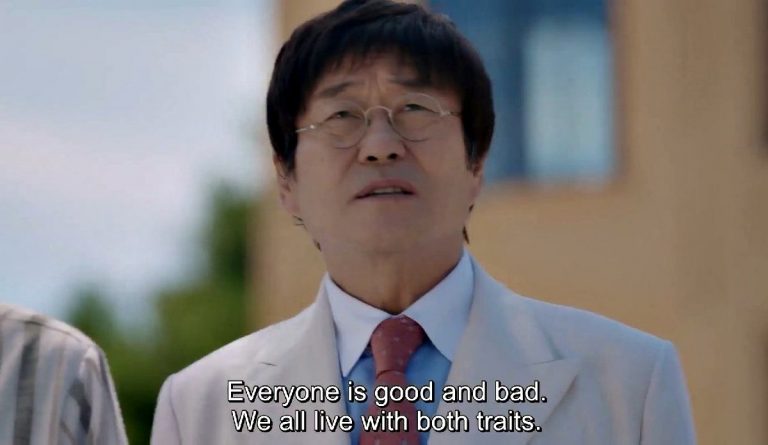 Just like our 3rd quote that talks about hypocrisy, this famous line also expounds more on what we are in real life. We all have our good and bad sides, and that's what makes us human. Good and bad are two significant traits that are encoded to the fabrics of our DNA. Therefore, it is okay to show your bad side sometimes, just like it is okay to show your goodness.
"If you can't erase it, you just need to cover it with something better," Ko Moon-young. – (Motivational it's okay to not be okay quotes)
At some point in our life, we make a terrible mistake and find ourselves in an awful situation, but because it's okay, we all make mistakes. Some of the mistakes cannot be undone or simply erased, but does that mean it's the end of the read for you? No, it isn't, and that's why Seo YeJi said you need to cover it with something better.
Summary 
Who are it's okay not to be okay cast?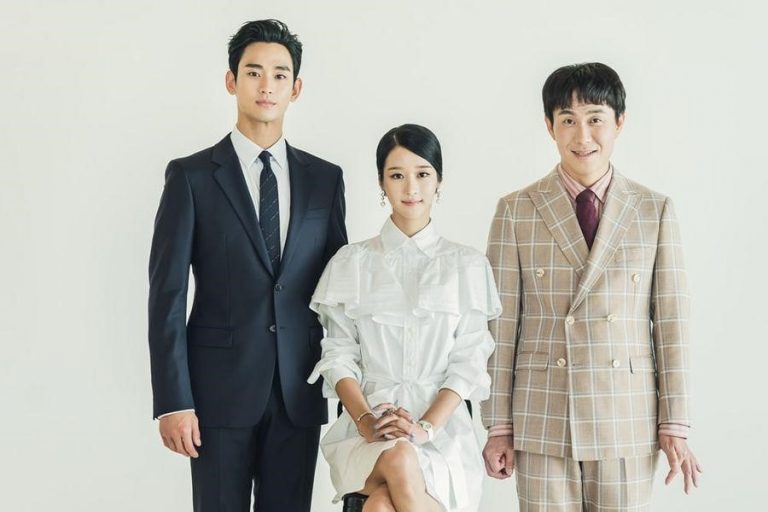 There are three main it's ok to not be ok cast, including:
Seo Yea-Ji: She plays Ko Moon-young, who is a writer of an antisocial personality disorder children's book. She is also a former South Korean actor Kim Jung Hyun lover (in real life). She began her acting career by featuring in the famous 2013-2014 Sitcom Potato Star 2013QR3.
Kim Soo-hyun:He plays Moon Gang Taes, who works in a Psychiatric ward along with Park Gyu Young (Nam Joo RI) and several other OK Psychiatric Hospital Officials.
Oh Jung-se :Plays Moon Sang-Tae role who is a Moon Gang-Tae older brother and autistic (antisocial Psychiatric disorder)
You can also follow your favorite leading cast on Instagram via Kim Soo Hyun Instagram and Seo Yea Ji Instagram.
Is there its okay not to be okay season 2?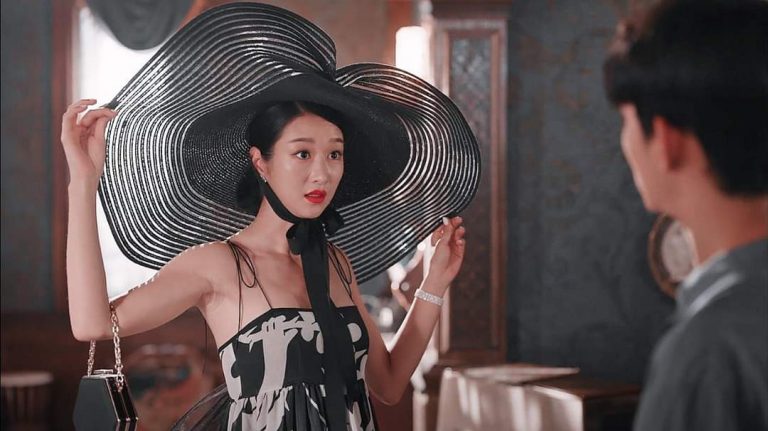 Thanks to young generations viewers, this Korean drama became not only a Korean hit but also a global hit as well. It has seen many positive reviews, with it being branded 'The Best International Shows of 2020' by The New York Times, among other major newspaper outlets. Therefore, most viewers can't wait to stream season 2, but is there a renewal possibility for its ok to not be ok season 2, and if so, what should we expect?
If you are a kdrama fan, you already know most Korean drama TV series are written to last one season. And because of that, this drama has left many questioning whether season 2 will ever happen. Positively, this season ended with several good cliffhangers that can be used to build the next storyline. For example, Ko Mun-Yeong visiting her mother following the latter's arrest or even build a story about Moon Gang-tae and Ko Moon-young's marriage. However, the wrapping up of this how was nice, with the leading casts confessing their love for each other. Furthermore, the season ended quite nicely with a happy ending all through.
Overall, there is no season 2 release date for this show yet since it hasn't been renewed for season 2. So, let's hope we get another chance to enjoy it's okay to not be okay quotes in season 2.
Final Thoughts On It's okay to not be okay quotes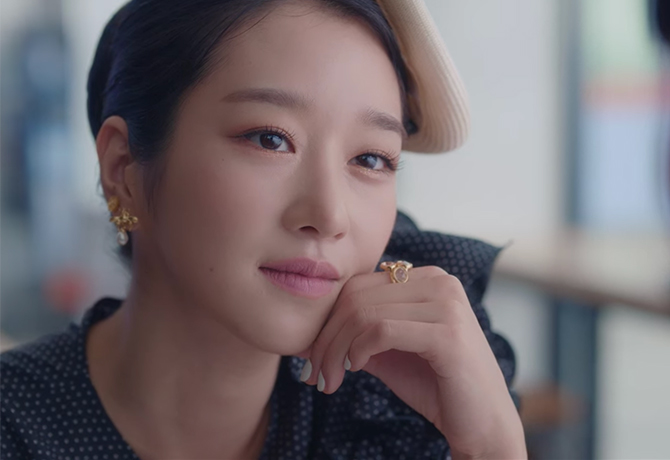 Overall, this South Korean television series is one of the best philosophical shows I have ever watched. Its okay not to be okay is made up of 16 episodes that will get you relieving the amazing scenes all night through. Furthermore, this drama will get you invested through a ton of life-worthy quotes that are carefully merged into well-orchestrated drama scenes. The show keeps getting better with each episode, with more mature stuff being mention from Ep 5 onwards. Personally, this is one of the best Kim Soo Hyun movies I have watched so far.
This show is now streaming on Netflix, so be sure to check it out today.