It's no secret that K-Drama male leads have an enviable fashion sense. From hairstyles, general clothing to footwear, these icons will sure make you reimagine your fashion priorities. The good news is that you won't even require a stylist to emulate the style and elegance of most fashionable and hottest korean actors. All you need is a bit of Korean fashion exposure and planning, and you are good to go.
To simplify your hustle, we have reviewed 8 K-Drama male leads whose style you can sample to kickstart your exotic fashion journey. So, let's get into it
Most Fashionable and H

ottest

Korean Actors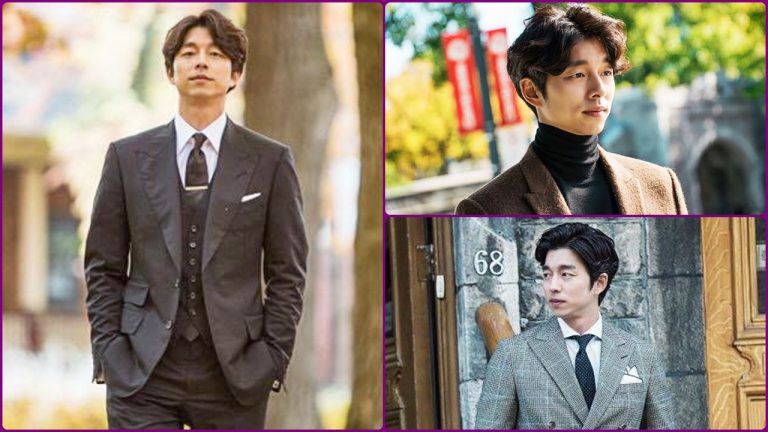 Gong Yoo's fashion sense in the Korean drama "Guardian: The Lonely and Great God," popularly referred to as Goblin, has left many tongues wagging. The model-turned-actor portrays a unique fashion sense which he has comfortably maintained since his debut in acting in "The 1st Shop of Coffee Prince," which premiered in 2007.
While he was a master of simple fitting attire those days, he currently seems attracted to oversized coats, which he repeatedly dons as Kim Shin in Globin. For example, in episode 3 of the show, he wears a Lanvin Paris' 2016 fall-winter coat estimated at $3310. The other coats he wore throughout the series were also sourced from luxurious high-end brands from across the globe. They include samples from Tom Ford, Givenchy, and Burberry, some of which have not even been debuted in the Korean fashion market yet.
Overall, his fashion sense makes him one of most hottest korean actors in the Korean entertainment industry. If you haven't watched this show yet you can stream it now on Netflix.
2. Hyun Bin in Crash Landing on You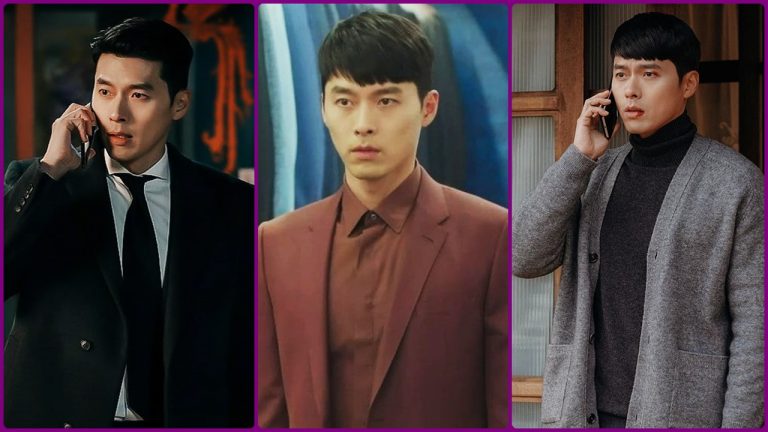 The 16-episode highest-rated Korean drama series "Crash Landing on You" smashed and crushed record sales after its premiere in December 2019. While the entire show was generally epic, Hyun Bin's fashion sense presented one of the Korean dramas' most memorable fashion moments. Popularly known as Captain Ri Jeong-Hyeok given his character in the series, Bin's handsome looks accompanied with Cop-like style naturally made a fashion idol.
Some of the peculiar outfits he donned include a Broadway red which he matched with a city shirt and wool and silk suit to compliment his lean figure, a long coat to demonstrate his unique fashion taste, and the Cashmere's handmade double coat, which he rocked during his stay in South Korea.
Bin is also a lover of cozy looks. He looks pretty comfortable in the white wool t-shirt matched with knit track pants and Merino wool hoodie sourced from JRIUM. We cannot get enough of his cable-knit jumper, which seemed warm and fit his lean physique. Also not forgotten is the olive roll neck, which he brilliantly matched with the Bastong wool coat. What about his selection of kimono topcoat from Dunhill? It simply would not have gone unnoticed! Bin is also seen rocking soft mustard in a particular domestic scene matched with an iconic Cashmere blend sweater, stamping his superior fashion sense.
3. Kim Soo- Hyun in Psycho but It's Okay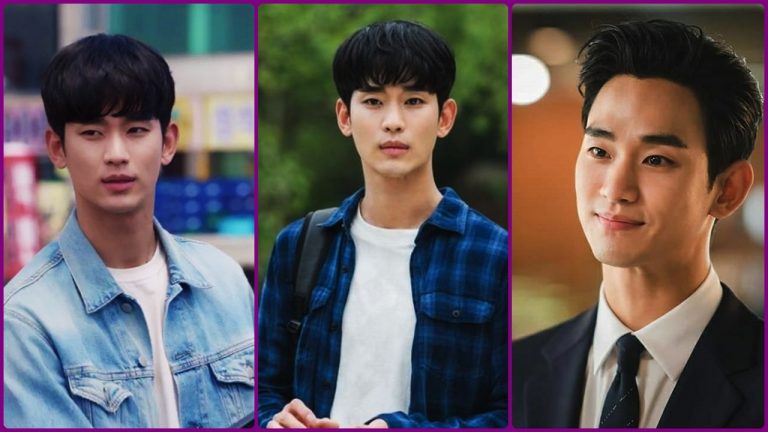 Kim Soo-Hyun is one of most handsome and hottest korean actors in kdrama. His stylish outfits in Korean drama became fashion inspiration for Korean men. Kim Soo-Hyun had just been discharged from the military when he assumed the role of Moon Kang-Tae in the top kdrama "It's Okay to Not Be Okay." You can't help but admire his sharp face characterized by a peculiar fashion sense throughout the drama. Even the health worker character that Kang-Tae plays in the drama series does not stop him from impressing his fashion audience.
In fact, some of the most memorable moments from the Soo-Hyun fashion collection include the moment he added an Acne Studio-sourced jacket to his casual spin and the scene where he rocked a trim track designer jacket from Isabel Marant Etoile.
Other equally unique moments include when he donned comfort slides from Adidas to bring out a homey touch. Soo-Hyun also looks epic in the ALLSAINTS slim-fit t-shirt complemented with Converse-made Twisted Summer Chuck 70 shoes. In one incidence, the fashionable Korean actor is seen in a white Acne Studios top and a Kanei Tei-designed Viper bag that adds an edgy spin to his already classy & stylish appearance.
4. Park Sae-ro-yi in Itaewon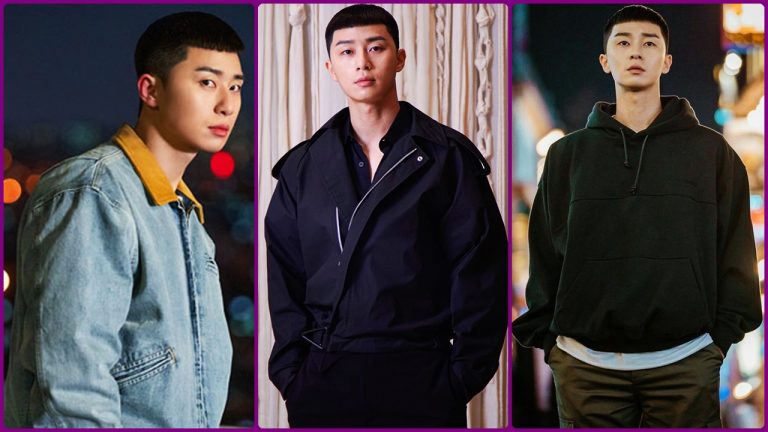 Itaewon Class is one of the highest-rated dramas. The story revolves around Park Sae-ro-yi, who wants to be successful and seeks revenge towards Jangga Group.
Away from the screens, the stylish leading men in kdrama Itaewon Class are made-for-the-street fashion enthusiasts.
Park Seo- Joon, one of the top hottest korean actors, is a street hardcore that would fit in anything homegrown but unmatched. Hair-wise, you will see him rock a 'chestnut haircut' typical of laidback street fellows who know precisely what he wants and how to get them.
However, the actor prefers puffer jackets, hoodies, and oversized tops for a routine outfit. He would then match the tops with military-themed pants and custom air force shoes or combat boots to depict a dependable and conscientious figure. Most of Park's outfits are overfitting, making them fashionable yet easy to recreate. As such, assuming his fashion requires that you pay particular attention to "overfitting."
STYLE takes a closer look at all the homegrown Korean boutique brands Itaewon Class actors wore in the show.
5. Nam Joo Hyuk's in Weightlifting Fairy Kim Bok-Joo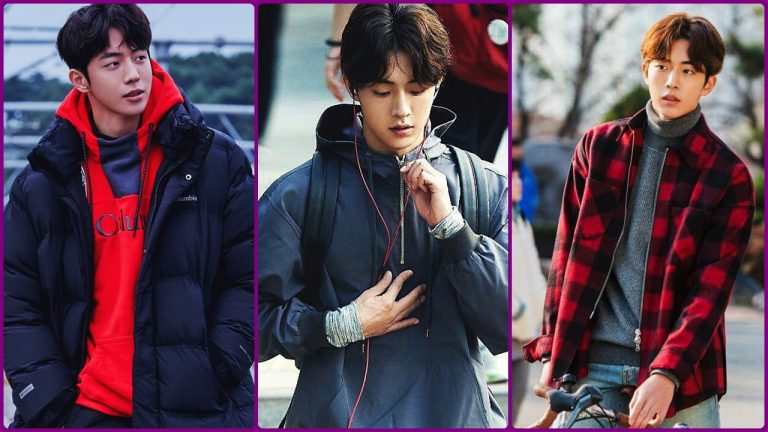 Nam Joo Hyuk's styling and stature attract liking from across the divide. Besides acting, Hyuk, among top ten hottest korean actors, is also an influencer and a model. His love for luxurious brands would see him rock high-end attire throughout the show, his style spanning a broad fashion spectrum from sporty to casual and official. His charming personality, boyish look, and lean physique align well with his influencer role. 
In one incident, Hyuk is spotted rocking an organza shirt that matches perfectly with spotty black pants. He also enjoys holiday and Old School collections which he can be seen dressed in with a playful mix of yellow, blue, and red. His soft spot for the black and blue colors is also evidenced throughout the show. In one instance, he is spotted wearing an all-black ensemble characterized by a rolled-up T-shirt, fitting pants, and black-themed leather shoes from Dr. Marten's collection.  
Of course, he would be sure to include a black-themed backpack and similar-themed glasses to complete his look and kill the show.
6. Lee Gon in The King- Eternal Monarch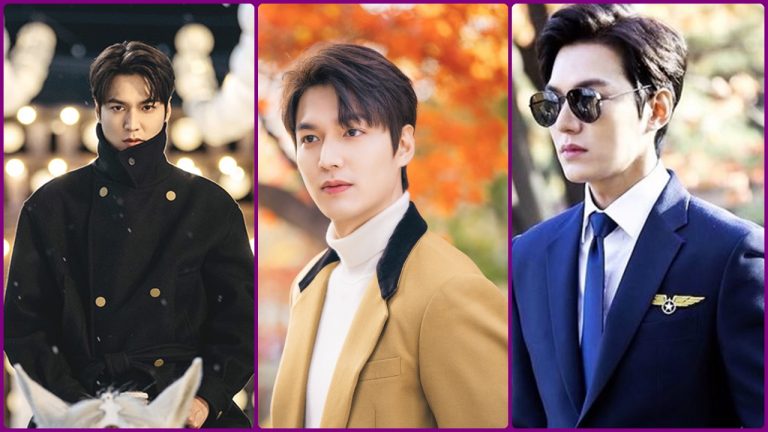 Lee Min-Ho's (Lee Gon) fashion sense is too diverse to be described with a single word thus making him one of the most fashionable Korean actors. In The King-Eternal Monarch, he comfortably fits competing varieties of oversized coats to display elegance and class. The vast coat collection ranging from striking designs to simple themes couldn't help but emphasize his tall height and protruding shoulders. 
The trick to this elegant look is simple; find the right fit and match your layers well. Gon's stylists have mastered the art of matching his body with corresponding outfits, giving viewers the perfect visual show. For instance, his overcoats are technically oversized to ensure that he moves around them comfortably. 
Furthermore, they are also keen on color, intentionally using lighter colors for the upper body to emphasize his wider frame. In the drama, he pairs patterned and textured overcoats with plain tops and vice versa, creating a visual balance. He also favors blue, camel, grey, black, and navy overcoats throughout the kdrama.
7. Song Joong Ki in Vincenzo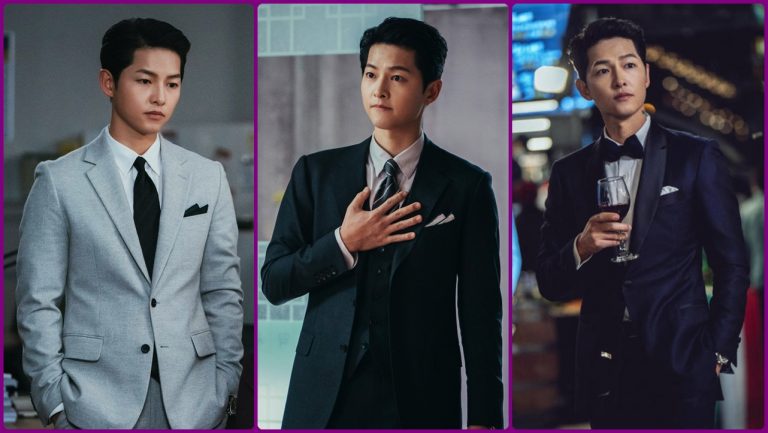 Vicenzo is another highly rated Kdrama in South Korea with incredible fashion sense. The lead actor Song Joong Ki grabbed many eyeballs with his fashion statement. Song Joong Ki as Vincenzo Cassano sported well-fitted, bespoke suits by world-famous designers. Joong Ki was spotted wearing branded jumpsuits, jackets, watches, and shoes throughout the show.
In fact, In one of the episodes, he rocked a full sporty look with the help of Under Armour's UA four-front rain jacket, project rock knit track pants, and UA Phantom running shoes. Also, he wore a black jacket from Barbour in one of the scenes.
Overall, throughout the show, he donned a variety of watches from Hublot to Zenith to Tag Heuer. Joong Ki is toned and fit with a lean physique and carries off most of his outfits with style and self-confidence. His style in the show Vincenzo is something to try out. You can stream this show on Netflix.
8. Jung Hae-In in A piece of Your Mind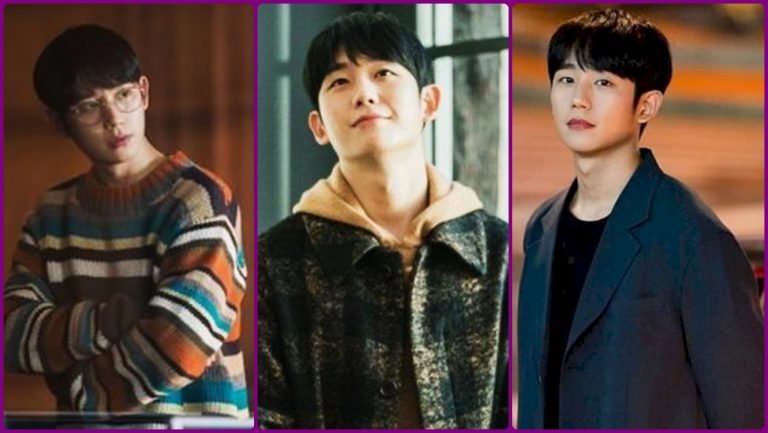 Jung Hae-In assumes Ha Won's character in K-drama's hit series "A Piece of Your Mind."  In this character, Ha Won takes the role of an Artificial Intelligence expert and Chief Executive Officer (CEO), allowing fans a full glimpse of sharp outfits that come with such roles. His obsession with iconic designer sweaters throughout the show cannot be underlooked. In one instance, he layers a white collared top with an oversized PLAC-designed V-neck sweater depicting him as a classy boss.
Furthermore, he dons a multi-checked shirt completed with eyeglasses showing a rocky college-boy figure in another scene. In fact, He also outstands in a cozy wool knit sweater sourced from the Trunk Project. An oversized top trend completed with a wool knit V-neck sweater makes him the classic CEO everyone admires. The fun doesn't stop there; he dons a cozy oversized coat designed by Haleine and complements it with a dark scarf to make himself sharp and distinctive. The fuzziness and soft quality that comes with knitted sweaters are interesting as they make one appear friendly and kind of down-to-earth.
Overall, his ability to combine two simple designs to create incredible fashion style is actually what makes Jung one of the most fashionable Korean actors. 
To try is to know. If you never try, then you will never know. Feel comfortable trying out the different designs and colors of Kdrama clothes highlighted in popular Korean dramas. You never know, you could be the next fashion icon we discuss in our best fashion sense bulletin.
Anyway, let us know which actor in our list of most fashionable Korean actors you would like to emulate his fashion sense. Otherwise for more fashion inspiration, check out our Kdrama fashion and Kdrama outfits articles.