Kdrama Extraordinary Attorney Woo has become the talk of the town these days. Whether it's the interesting dialogs or chemistry of the actors, everything is outstanding. But there is another best thing about the Netflix show. It's the unique Extraordinary Attorney Woo items.
The show is a legal drama about an autistic attorney. And we notice whales in different forms throughout its length. We must say whale talk is the central element. There are interesting dialogs where Woo Young-woo talks about the sea creatures.
Since the show went on-air, whale items are selling like hotcakes. Every fan wants to get an Extraordinary Attorney Woo whale clock or keychain. Did you order any items yet?
Extraordinary Attorney Woo Premises
Extraordinary Attorney Woo became a hit show in no time. The female lead, Young-woo, is on autism spectrum disorder and has an IQ of 164. She lives with her single father. Her mother abandoned her at birth. But her identity was revealed in the later part of the show. The way Young-woo overcomes challenges and bias is remarkable.
The major characters in the show have also earned plenty of praise. Jun-ho, Myung-seok, Soo-yeon – in fact every character has a unique aura. Further, the relationship of Extraordinary Attorney Woo characters is interesting. This is why we love streaming the show. You can binge-watch it on Netflix, Dramacool, or KissAsian.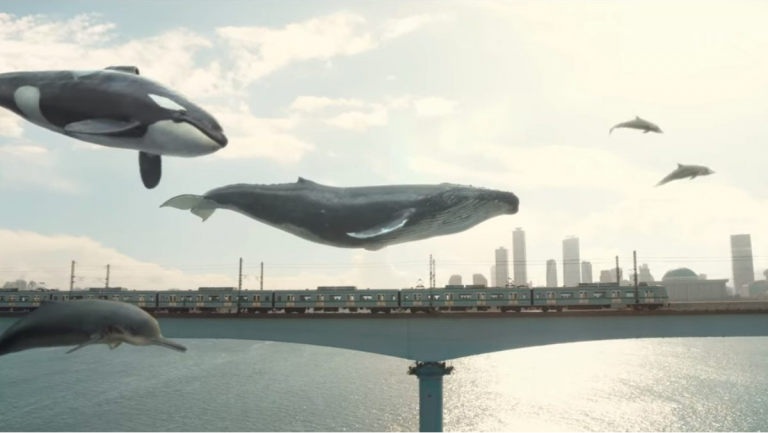 Woo Young-woo and Whales
The new Kdrama has covered different topics. You can watch how the Hanbada team manages complex cases for clients. And you can increase your knowledge about whales and the deep sea as well.
The drama writer is Moon Ji won. She is a marvelous writer. She wrote the drama premises and dialogs exceptionally well. Moon Ji won writer did extensive research to cover vast topics. From whales to autism and the legal world, she made sure the drama accurately depicts the main topics.
Moon Ji won drama list isn't long. This is her first script for a TV show. But she penned the famous movie "Innocent Witness" in 2019. This movie is also about an autistic character.
People with autism tend to be deeply immersed in a specific topic. In many dramas, you may notice some characters are attached to dinosaurs, trains, etc. This is why Moon Ji-won chose whales for her script. It is different from other shows.
Extraordinary Attorney Woo whale meaning is significant. Whales tend to be lonely in the vast sea. Young-woo feels she is just like a whale. It's because not everyone can understand her unique personality. So, she takes comfort in them.
Woo Young-woo has deep knowledge of the subject. And she doesn't hesitate in talking about it, especially with Jun-ho.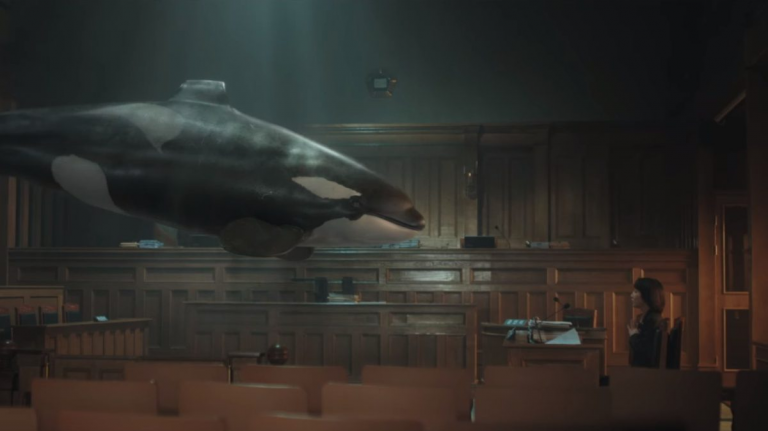 Extraordinary Attorney Woo Whale Quotes
We get to hear some interesting Extraordinary Attorney Woo whale quotes. Park Eun-bin's character loves whales. When she has a Eureka moment, we see a big whale on the screen. Or it appears when she figures out something with her brilliance.
Now, do you want to check out some of our favorite whale quotes?
"Whales are intelligent. She knows that she will also be killed if she doesn't abandon her baby. But she never does. If I were a whale, would my mom not have abandoned me?"
– Woo Young Woo
In another scene, Young-woo asks Attorney Jung Myung-seok a riddle when working on the case of an old lady.
"If a female sperm whale that weighs 22 tons ate a giant squid that weighs 500 kg then laid an egg that weighs 1.3 tons 6 hours later, how much does it weigh?"
Then she answers herself, "Whales can't lay eggs!"
 Another insightful quote is:
"We know more about the dark side of the moon than we do about the deep sea. Just seeing how no one's ever witnessed a blue whale giving birth is proof of that."
The most endearing one was when Young-woo said to Lee Jun-ho(Kang tae-oh): "If it's just you and me, just the two of us, can we talk about whales?"
In return, Jun-ho gets a painting of a whale for the meeting room. The scene where they stare at Extraordinary Attorney Woo whale painting is awesome. He invited Young-woo to see the painting as:
"Do you want to see a whale with me?"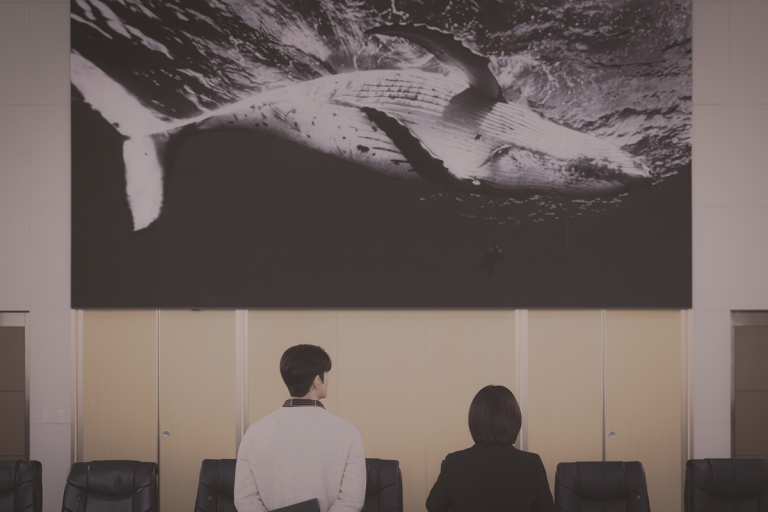 Extraordinary Attorney Woo Whale Facts
Extraordinary Attorney Woo whale facts are insightful. Do you want to learn interesting facts with us?
* A Sperm whale is called a cachalot because it has a big, square head with a spermaceti organ inside. The organ contains a wax-like liquid that makes sounds.
*The body color of the Sperm whale is dark gray or purplish brown.
*Killer whales stay with their mothers their whole life.
*The feces of a blue whale are red. It's because their staple food, krill is red.
*Whales feed in the deep ocean and come to the surface for excretion.
*Feces act as pumps that pull nutrients from the deep ocean to the surface of the sea.
*Right whale is a migratory animal except for those in California.
*There are 400 right whales in California. They are so fast they can travel around the state in 6 days.
*Migratory whales eat intermittently. They have food for only 3-4 months when they are in polar regions.
*Blue whale produces 200 kg of high-fat milk every day.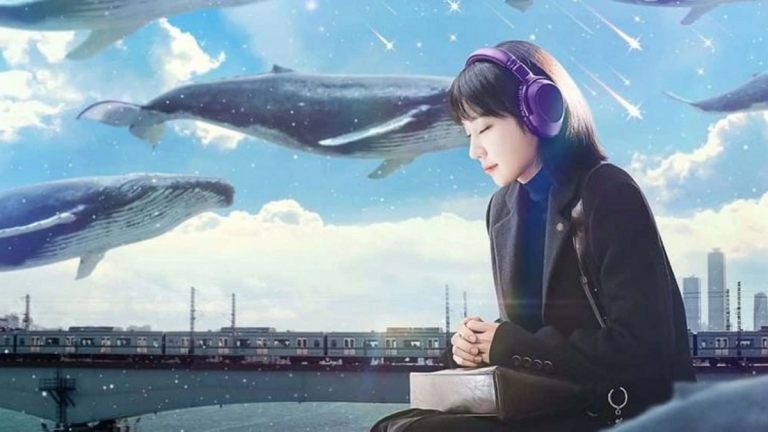 Extraordinary Attorney Woo Items
Don't you like the stylish dressing of female characters? And male characters are no less. But the items that have got the most attention are whale items.
Park Eun bin is the driving force of the popular TV show. She acts as Woo Young-woo who is an autistic lawyer. She has a passion for learning about whales. This is why we often hear Extraordinary Attorney Woo whale talk. Also, she has a vast collection of different whale items.
Let's find out which items are popular among fans.
 Woo Young-woo's Alarm Clock
An alarm clock is important for a professional. Woo Young-woo has a unique clock that helps her get up on time. Yes, we are talking about the Kikori whale clock!
The attractive whale clock became a sensation since episode 1 went on air. Kdrama fans are buying the product to show their affection. The alarm clock is a little expensive. But nothing can stop us fans from buying the items our favorite character owns.
Extraordinary Attorney Woo whale keychain
Do you know what's the hottest item these days? It's the keychain Young-woo uses. You may notice a whale keychain attached to her handbag in many scenes.
The Troika whale keychain is elegant yet attractive. The whale charm is lightweight and hangs on a chrome ring. Now, are you ready to get the Extraordinary Attorney Woo whale keychain? We can't wait to get ours either!
Whale-Shaped Toy
Who doesn't like having soft plush toys?
No matter how old you are, the joy of having comfy pillows and toys is exceptional. So, you may like the whale plush toy of Young-woo. You can have fun and sleep comfortably with this cushion or toy. Check it out!
Whale Suncatcher
A suncatcher in your room creates beautiful lighting effects. It reflects lights and adds beautiful colors to your lovely room. The whale suncatcher from this TV show can be a good addition to your indoor space.
The stained glass suncatcher is available online. So, you can hang it near a bedroom window.
Whale Foot Mat
A stylish floor mat makes your room attractive. But it has many benefits too. It can keep you safe by preventing slips and falls. And it makes sure you don't bring in germs with your slippers.
Do you want to get a floor mat? Then you may be interested in the whale pattern foot mat that appeared in the 1st episode.
Whale Flowerpot
You may have some flower pots indoors. But you may not have one as cool as the whale flower put of Attorney Woo.
The beautiful pot is shaped like a whale. It looks quite attractive by the way!
Whale Jigsaw Puzzle
Most kids and adults enjoy solving puzzles alike. A jigsaw puzzle is great entertainment for spare time. Also, you feel the joy of achievement when you solve the puzzle.
Woo Young-woo also has a special 500-piece jigsaw puzzle. And of course, the puzzle is of a whale. Check out the puzzle from episode 1.
Whale Fashion Hat
Park Eun-bin's character loves whales. So, she has a special affection for dolphins too. So, in many scenes we see the female lead sharing her knowledge of dolphins.
There's a lovely scene in episode 12. Young-woo and Jun-ho are standing in front of the Ocean Room aquarium building. Also, they are holding signs, urging them to free dolphins.
"Dolphins belong in the wide ocean, not an aquarium. Stop displaying dolphins and release them."
They are out on a date and wearing matching dolphin hats. The fashion hat looks quite unique.
Travel Carry-On Bag Whale Cover
Travel carry-on bags are a must when going on tours. Our Hanbada legal team goes to Jeju Island in episode 13. They have fun while working on client cases. The thing that captured our attention was Young-woo's carrier bag.
She has a bag cover that shows the picture of whales. It represents her personality and passion for whales. So, it was a really good addition to the show.
Whale Indoor Slippers
Do you wear slippers indoors?
Woo Young-woo has a great taste in slippers too. Her slippers in whale style are adorable.
You may want to get these comfy slippers. Whether you walk on the hardwood floor or carpets, they would keep you comfortable. Indoor slippers can keep your feet warm and avoid discomfort.
You may think getting items similar to your favorite TV show characters is too costly. But this isn't the case with this product. The best thing about these slippers is that they are cost-effective. So, order your Extraordinary Attorney Woo whale slippers before the stock runs out!
Whale Storage Box
You may have several small storage boxes in your room. With these boxes, you can easily store and sort daily-use items. The popular Young-woo also has such boxes in her room. You may notice the items in her bedroom in some scenes.
The most attractive box was whale-shaped. The character owns a small box in white and black colors. You can also add it to your collection.
Dolphin Pendulum in Extraordinary Attorney Woo
Woo Young-woo is an autistic lawyer. People with autism tend to have a special area of interest. The character likes whales to a huge extent. This is why she has many items that are shaped like these marine mammals.
You may be surprised to know that dolphin is a type of whale.
In the opening scene, we see her bedroom closely. Many items in the room are in the shape of a whale. One such item was a pendulum. The pendulum had whale toys on its sides. It was impressive!
Conclusion
Extraordinary Attorney Woo drama has garnered praise for all the good reasons. We don't often see autism in many shows. The writer has done great in accurately representing different aspects of ASD.
Aside from an amazing script, the show became popular due to the cast. Extraordinary Attorney Woo items have also become a major hit. Attorney Woo Young-woo has a collection of dolphin and whale items. We must say the selling power of Park Eun bin is unmatched. TV show fans are quickly buying the items from the show. Many of these items went out of stock in no time.
Do you want to build a collection like your favorite Young-woo? Then Korea Trendy has you covered! You can find items you like in our fashion catalog.
Let us know which whale items are your favorite!